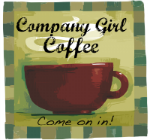 Welcome! I was visiting Rachel Anne's
Home Sanctuary
Blog this afternoon and one of her video's stirred a funny memory for me:
I was shopping one day with my mom, we came out of the store and I put my sunglasses on. All of a sudden, I couldn't see very well and I felt dizzy and I told my mom that I was having trouble with my vision. Well, she started laughing so hard and it was then I realized that a lens was missing from my sunglasses! At the time I was so embarrassed and felt so undignified but now I just laugh about it. I take myself a whole lot less seriously than I did back then.
Well, this is a short post because Douglas and I are heading off to Louies for a quick bite to eat. Tomorrow we are going to Norman for Doug to defend his title in the Neil Shindler Invitational (is that right? or is it Neil Shindler Open? whatever).
I'm planning on going to a couple of my favorite scrapbook stores and meeting up with my friend Jodi so it should be fun!