Thank you for stopping by!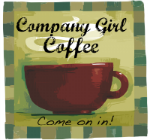 Last night I took a painting class with
Priscilla Hauser
. What a great time!Painting with Priscilla is a dream of mine from a long time ago. I used to watch her try to teach Carol Duvall on
HGTV
how to paint. I remember thinking that I would love to take lessons and someday be able to paint like her. Well, now I can! She has a studio right here in Tulsa located at 19th and Harvard. She teaches all kinds of lessons from painting parties to painting 101 to advanced lessons,and she will even teach private lessons. The class last night was a beginner paint class just for fun. The classes are three hours and you can choose from a variety of designs depending on the date you choose. I've signed up for a dragonfly painting class in May. At some point I would love to take Painting 101. Guess I'm just going to have to make room on my schedule for it.
Here is a picture of Priscilla with her sister Ann. Such sweet, talented ladies - and fun too!
Here I am with Priscilla and my painting:
Not bad for a beginner - if I do say so myself!
I'm hoping for a relatively quiet weekend this weekend. The Master's Golf Tournament is on so I know Doug will be glued to the TV most of the time. I'm cooking on Sunday. We are planning on having a pork roast with scalloped potatoes. I haven't cooked in a while so I'm actually looking forward to it. Doug isn't sure he really likes pork so I'm hoping for the best. I'll have some shrimp on hand to throw on the grill just in case. ;) Hope to get the baby invitations finished too.