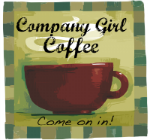 Welcome for coffee, Company Girls!
The week has flown by and has been a very busy one. Doug was gone part of the week and got back Wednesday afternoon. So happy to have him home!He had a good time but has been a little under the weather since he got back.
We've got a few plans for the weekend. Tonight we are going to a ball game at the Drillers Stadium to see OU vs. OSU. Should be lots of fun!
We were going to go over to the old house to take care of the yard tomorrow. Luckily, someone left a flyer on the door and I called the number. So, instead of us having to do it, I'm just going to pay someone else to mow, edge and take care of it! I'm praying that I get an offer on that house soon. It's a cute little place and I can't understand why it hasn't sold yet. There was a showing last night, one today and one tomorrow. So, come on offers!! It's a great little place:
On Sunday, we are going over to Edmond to take Doug's mom to brunch for Mother's Day. Sunday is also my brother Bobby's birthday. Can't wait to see my family next month!!
Have a great weekend everyone!